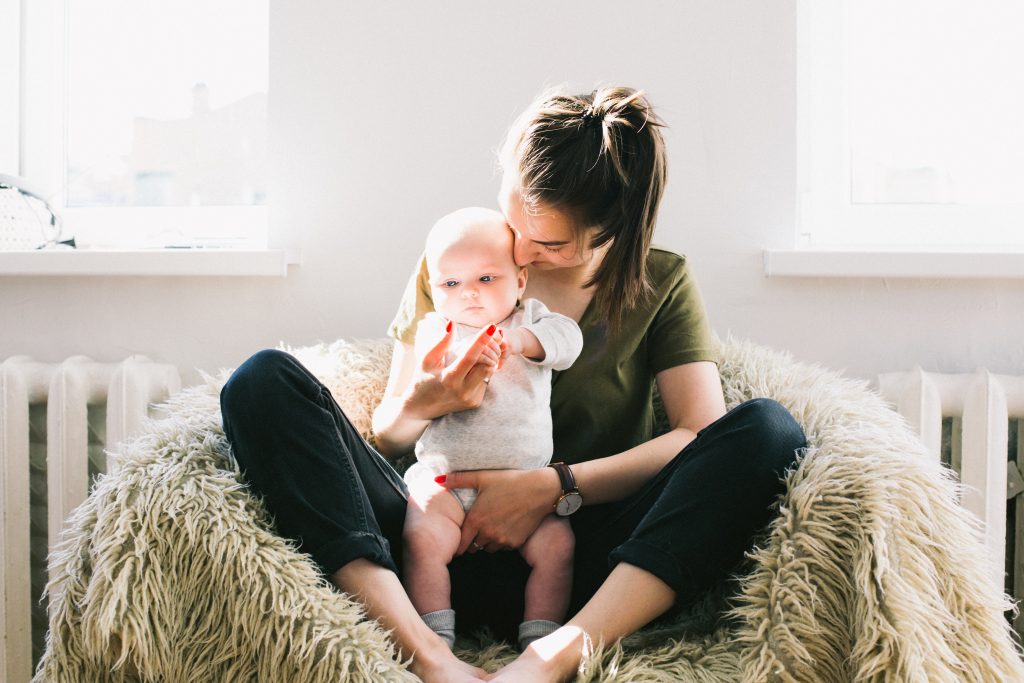 Whether you are expecting, or your bundle of joy has already arrived, you probably spend a lot of time planning the layout of your baby's room. Of course, you want it to be perfect – comfortable, lovely, practical and safe. You want to design a little piece of heaven where your baby can dream peacefully and feel safe and loved.
So, if your baby's room is still just a sketch on a piece of paper, seek inspiration in these lovely ideas:
1. Start with the walls
Parents want to create a soothing atmosphere in a baby room, so the surest way is to consider pastel colors. Even though bright colors are recommended for visual stimulation that your baby needs, pastel colors should be the basis. That way, your baby will feel calm and content. Alternatively, you can add bright patterns to some areas to stimulate your baby's eyesight. In case you're worried about the dangerous fumes, it's possible to get the shade in a zero-VOC formula. Spring green is gender neutral, as well as sky blue – they are both natural tones that calm your baby and go well with almost any color.
Another way to decorate one of the walls is to apply cute wallpaper. Decide where the focal point for the art print should be (it's usually the wall behind the crib). Make sure that the theme on the wallpaper matches the overall concept of the room. Namely, complement the furnishing with the right art print theme.
2. Create as much storage as possible
You probably want to fill the baby's room with cute stuffed animals, dolls and cushions, make sure there's enough storage space and the room doesn't look cluttered. It will also ensure your baby's safety. Use vertical space to its maximum by adding vertical shelves that reach the ceiling. Small colorful drawers are just what you need for the tall shelves – a safe place for the nursery items such as binkies and lotions. Seated storage is a great solution for two reasons – there is a lot of space under the padded seat while it's also a perfect spot for you to cuddle with your precious cutie.
3. Controlling natural light
Having large windows is baby's room is great – the sun will brighten up the whole room. However, making sure that the room is dark and cool whenever your baby is sleeping, is essential. It will prevent baby from overheating, which is considered to be a contributing factor relating to SIDS. This is why renowned companies pay a lot of attention to window treatments. For example, solutions like OZTech awnings prevent the sun from heating the glass because the awnings are exterior rather than the interior ones. By also adding playful curtains inside the room, you'll be able to decrease the light at any moment.
4. Lighting fixtures
Installing a dimmer and adding it to your bedtime routine will ensure your sweet dreamer falls asleep very quickly. Soothing tones that a dimmer provides will trigger your baby's need for sleep.
A ceiling light or a fan combo will have two purposes – it will cool your baby on a warm day but also provide warmth in winter. The motion itself is something that many babies find amazing to watch. If you paint the blades with bright colors, that will definitely provide a great visual stimulation.
5. Earth-friendly and non-toxic details
It's best if you connect your baby to nature from the very start and also protect he or she from the toxic materials that we are surrounded with.
A crib made from solid wood and a non-toxic finish is the perfect spot for good night sleep. If you manage to find one that can be converted into a hip toddler bed, then your child could use it for years to come.
When dealing with flooring, you can opt for carpet squares. They are made from recycled materials, meaning there are no chemicals in the flooring. If you feel creative, you can create cool designs with them.
While decorating the room with stuffed animals, bear in mind that these are some of the most beloved things for a baby to chew on. So, it's best to be sure that your baby is chewing on stuffed animals made from natural cotton. These stuffed animals are also dyed with plant extract which is safe for your baby's health.
Finally – enjoy the process
Designing your baby's room will be one of your favorite projects you'll ever do. You will pour your heart into it, so it will definitely look amazing and be radiant with warmth and love. Take your time and let every cute detail you add really count.